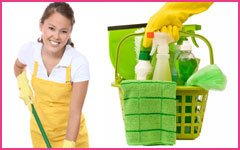 If you need one off cleaning to freshen up your home we can help you with that. We can organize our cleaners to come on a day and time convenient for you. Our one off cleaning service is suitable for all customers who do not require cleaning on regular basis:
Please CLICK HERE to see a full list of our cleaning services
Read what our customers say HERE
We cover all areas in Northumberland, Tyneside, Gateshead, Sunderland, Scottish Borders, Teesside & Cumbria.

FACING UP TO THAT ONE-OFF HOUSE CLEAN
We all try and avoid cleaning our homes- the accumulation of dust, the cobwebs in the corners of the ceiling, that faint musty smell that warns us that its time for a one-off clean. Wed never let our own bodies go like that go for months on end without a shower. But its easy to let our homes get dirty over time, when we have busy lives. A quick run-round with the vacuum cleaner and doing the washing-up is just not enough. Now that spring has arrived, its the traditional time for that one-off clean. Are you going to grin and bear it and make the effort?
The best way is to start from scratch. Half-measures will only mean that you do a second-rate job and you'll have to face that one-off clean again sooner than necessary. Work from room to room, perhaps one room a day. The average size house or flat should only take a week at most. Dust down and then move any movable furniture out of the room. Once that is done, dust the walls and ceiling and any wall fixtures. Then, vacuum the room, covering every last centimeter of carpet or floor, perhaps using a cleaning product to create a pleasant aroma. Open any windows while you work, so as to release any old smells. Then move the furniture back into the room. Tomorrow, tackle the next room.
The sense of satisfaction and well-being after a one-off clean is immense. You can relax back into your armchair and feel really great. So put off watching your favourite programme or yet another episode on that box-set. Get going with that one-off clean, its well worth it. Make your home as comfortable as it can be and don't worry about it again for a while.
Related Posts