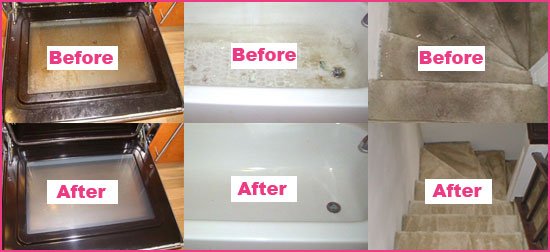 We are 100% pleased with Sophie's House Cleaning Company. I arrived home to find my place spotless after a recent building project, above and beyond what I had expected. My wife also wanted to point out how wonderful your staff members Sophie and Tiffany were. You should be delighted to have such professional and friendly people representing your company. I will have no hesitation in making a booking with Sophie's cleaning again if needed and will definitely be recommending your company to my friends and colleagues. Kindest regards.

M Nope – Morpeth

The cleaners from Sophie's House Cleaning who came to our home were wonderful & did excellent work, we are very happy with the cleaning service provided. We have passed your details on to many of our friends. Thank you! we are grateful to your staff for all their hard work.

L Spencer – Newcastle
A quick note of thanks. The Ladies who cleaned my dads flat today did an absolutely outstanding job, the place has never looked or smelt so clean. They arrived on time and were extremely pleasant to deal with. You should consider both staff to be great assets to your company.

Allinson Rindle – Gateshead
Hi, Thank you very much for sending your cleaners today at such short notice. They did an excellent job cleaning the full house. I have used many services for cleaning in the past but your service suited my requirements perfectly, so once again thank you!

Pauline P – North Sheilds
Thank you, thank you, thank you. Your cleaning staff who came to spring clean my house yesterday were absolute godsends. They surpassed all my expectations, at such a good price too. I will now consider having them come over once or twice a year (maybe more often!). It's lovely to be able to just concentrate on the kids now, and not have to worry about all the housework (for a while anyway! )….please pass my thanks on to your cleaners, they were terrific.

M Lyno – Northumberland
Great service – thank you very much, due to caring for my father full time sometimes its nice just to be able to have a break from it all just for a day, and your cleaning company lifted a huge weight off my shoulders coming in and cleaning my home while i took some time out for a breather, at a brilliant price too. I will most certainly be using your company much more often.

Shelley Anders – Wylam
I just wanted to write and give you some feedback on your staff who have now been to my home twice. The girls did excellent work and were very pleasant and professional. I will be certainly requesting them for future cleaning services when required. Thank you again for your services.

Mrs Thorpe – Tynedale
Just wanted to say a big thank you to Sophie's House Cleaning for the excellent service received on Saturday from the courteous young ladies who did the cleaning, they arrived on time, they were very polite and finished the clean without skimping  in record time for my father getting out of hospital. The office staff were very helpful also, we were very happy with quote given and will be using your company again when the need comes.

Mr & Mrs Burnley – Stockton
I would recommend Sophie's House Cleaning to everyone who is looking for an excellent service, without a doubt you will be satisfied with not only the clean but also the price. They arrived on time & worked tirelessly from start to finish. Great bunch of people.

Christine Fairley – Durham
I have used a few cleaning companies in the past but have to say Sophie's House Cleaning Company are BY FAR THE BEST! From the friendly efficient administration to the spotless cleaning the service as a whole I highly praise. Thank you for a hassle free service to the team of Sophie's House Cleaning.

Sally Alington – Bishop Auckland
The house looks astonishing after Sophie's House Cleaning have worked their magic, it's a different level of clean – everything gleaming and highly polished. It's such a boost to know that everything has been covered so professionally. I will definitely be using your company again should the need arise. Thank you so much.

P Stone – Fenham
Thank you for sending your wonderful cleaners to us. They arrived on time, worked steadily all day, hardly stopping at all. I don't think my house has ever been so clean. Also we found both cleaning staff very professional, pleasant & easy to get on with. My house now feels more homely than ever. We will certainly recommend your service to anyone who needs a brilliant cleaning company. We shall certainly use your service again.

Diane Flanders – Corbridge
I have used several cleaning companies in the past, but I have never been as satisfied and even surprised as I was by the service provided by Sophie's House Cleaning. Sophie and Tiffany went above and beyond what I could EVER have expected. Everything was sparkling clean, things were put back where they belonged, it was plain to see the extra effort put into making it even better than "Just Right"! I thank you both lots & lots.
Related Posts