House Cleaning Service In Blyth Denton Burn Spittal Tounges Fenham Killingworth.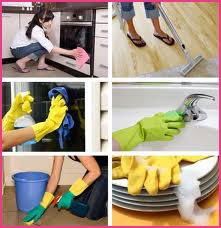 Sophie's Blyth house cleaning services offers professional domestic home cleaning services near you. Our cleaning company undertake all aspects of housekeeping and cleaning of residential homes. Call us now for prices and a quick free quote.
Sophie's Domestic House Cleaning service offer professional, efficient and cost effective home cleaning services such as end of tenancy cleaning, after builders clean and one off spring cleaning.
Blyth home clean case study.
Anyone who's had work done on their house by builders knows that they're not always the tidiest of people. Sure, they'll give the floor a quick sweep after they've finished whatever work you've asked them to do, but that's about it. And it's amazing how much dust and dirt can be left behind after any building work has been completed.
And it was just such a job that a new client phoned us up one Tuesday morning. Builders had added an extension to the ground floor of her home, expanding the kitchen into the back garden. At the same time, she'd had her attic converted into a fourth bedroom for her detached home, with the addition of a dormer window. That meant that there had been work going on at the top and the bottom of the house. The dust that had been tracked up and down the stairs and had settled in every room was astounding.
Even although the builders had used fly sheets to cover carpets, the house truly needed a deep clean from top to bottom. The lady of the house hadn't the time to do this here self and that's where we came in. A friend of hers who'd been in a similar situation had recommended us to her.
We arrived at the house early in the morning to make a start. The interior of the house was indeed covered with a film of dust from the building work, and some of the fitted carpets had taken a bit of a beating. Even the light fittings had a film of dust – something the homeowner had not even noticed until we pointed it out.
Two of our ladies were on this job and they both started at the top of the house, cleaning, dusting and vacuuming. They really didn't know where to start however they took each room at a time, pulling out all furniture and removing all clutter that was about so they could give everything a thorough clean. Before attempting to clean each room the girls went around the full property and dusted down all light fittings and walls and left this to settle before cleaning. By 5 O'clock they'd made their way through all three stories of the house. All that was left to do now was a final run over with the vacuum cleaner, and then the floors to be steam cleaned.
The lady of the house was absolutely delighted with our work. She said it would have taken her days to find the time to do it all on her own. And now everything was beautifully clean and she could relax and enjoy her new kitchen extension and extra bedroom.
Related Posts